Porcupine Ridge Guest House
Sabie - Mpumalanga - South Africa

Our Story
English-born owners, Janet & John, have lived in South Africa since 1974; first in Johannesburg, then in Durban and in Sabie since 2006.

John spent 45 years in the construction industry, while Janet's career path meandered from graphic design and teaching to banking and real estate. We opened Porcupine Ridge in December 2007 and took to our new venture like ducks to water. Since those first tentative steps Porcupine Ridge has won prestigious awards, been featured in several national publications and hosted guests from over seventy countries. We love to welcome guests to our little corner of paradise.
John is an active bowler, addicted Sudoku solver and armchair sports enthusiast. Janet enjoys hiking, reading and yoga. We are both passionate birders and Kruger Park fanatics. We have two married sons, living in New Zealand and USA and one precious Kiwi granddaughter.
Over the years we have travelled widely throughout Southern Africa and have a wealth of local knowledge we are happy to share.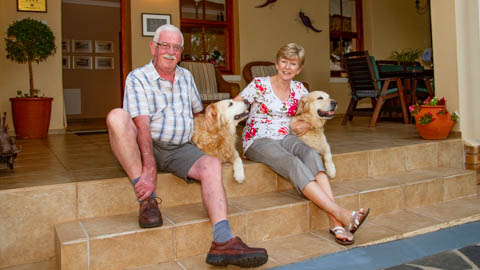 "I never knew of a morning in Africa when I woke up that I was not happy"

Ernest Hemmingway